Home
»
Iowa All You Can Eat and Buffet Style Restaurants
»
Dubuque All You Can Eat and Buffet Style Restaurants
Bishops Buffet
555 John F. Kennedy Road
Dubuque, IA - 52002
(563) 588-2031

Join All-You-Can-Eat.us to obtain full listing information such as email and website URL.
About Bishops Buffet
Most people associate our Dubuque restaurant with our award winning desserts. But we offer more than just mouth watering cream pies. We have a wide variety of choice items on our full buffet. Indulge yourself with our mouthwatering roast beef, creamy mashed potatoes, or tasty salads.
We prepare our meals with only the freshest ingredients, guaranteeing that dining at Bishop's will be unforgettable. Our popular pies are made from scratch, while our hard carved roast beef is carefully prepared each morning. And our chicken is prepared with our own special recipe.
Located in the Kennedy Mall.
---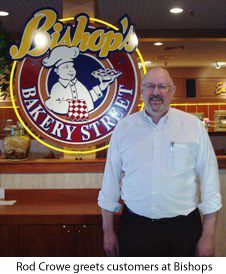 Locate Bishops Buffet
---
Post Comment
---